Pied Piper
is a startup company focused on "multi-platform technology based on a proprietary universal compression algorithm."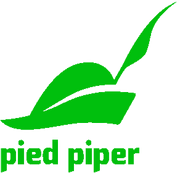 The company was started when Richard Hendricks, a software engineer who was working at Hooli, created a songwriter-oriented music app called Piped Piper that made it easier for songwriters to determine if their work infringed on other's copyright. The app was created at the Hacker Hostel, a "tech incubator" at Palo Alto in the house of Erlich Bachman, an entrepreneur and founder of airline booking aggregator Aviato. Upon discovery of the revolutionary compression algorithm in the app by workers at Hooli, a short betting war for the company began between Gavin Belson and Peter Gregory. Richard chooses Peter's offer, which was a $200,000 investment for 5% of the company. Richard hires inhabitants of the Hacker Hostel to work for Pied Piper including Erlich, Dinesh, Gilfoyle, and Big Head. Big Head was later fired because of a lack of a purpose at Pied Piper.
Technology
Edit
The data compression algorithm is based on a "middle-out" strategy which allows for a exceptional Weissmann score up to 5.2.
Employees
Edit
core 5
additional
Logo evolution
Edit
External links
Edit
Ad blocker interference detected!
Wikia is a free-to-use site that makes money from advertising. We have a modified experience for viewers using ad blockers

Wikia is not accessible if you've made further modifications. Remove the custom ad blocker rule(s) and the page will load as expected.